TIBCON POWER CAPACITORS are manufactured by Tiberwala Electronics Ltd. as ISO 9001 Company, which is one of the larges manufacturers of A.C. Capacitors in India. The company also manufacturers MPP film for capacitors which is made on Leybold High Vacuum Roll Coating Plants (Germany) in a technical tie up with ICAR s.p.a. Italy The quality system conforms to ISO 9002. Over the years , TIBCON has built expertise, emulated latest technologies and has acquired wide acclaim for the quality of its products
Why use Power Capacitors
It is obligatory for every customer of electric power to maintain power factor close to unity. Normal Power loads (KW) being inductive in nature, necessitate excess apparent power supply (KVA) and need capacitive loads (KVAR) for correction
Advantages
¤ Reduced power costs due to reduction in KV A demand.
¤ Prevention of low power factor penalties. Release of system capacity due to reduction in total current drawn from the mains.
¤ Reduction in power losses, increase in efficiency of the system and life of electrical transmission equipment.
¤ Reduction in voltage drop, improving voltage regulation.
¤ Reduction in size of cables, transformers and switchgear with consequent lowering in capital costs.
¤ Cost of capacitor is recovered in a short period.
¤ 100% depreciation can be claimed in the first year, under Income Tax Act.
TIBCON HEAVY DUTY CAPACITORS
TIBCON MPP Heavy Duty Capacitors are specially designed to meet demands of heavy duty industrial loads such as forging shops, rolling mills, rectifiers etc. TIBCON Heavy Duty Capacitors are built with the correct degree of protection, to withstand higher over current and higher surge voltages.
SALIENT FEATURES
USE OF HEAVY EDGE FILM
TIBCON Power capacitors are manufactured with Aluminium - Zinc or Silver - Aluminium Zinc metallised, heavy edge M.P.P. Film which ensures better bonding between the electrode layer and the end spray. Heavy edge has high current carrying capacity and ensures better withstand of the electro-mechanical stresses caused by the switching surges.

SELF-HEALING PROPERTY
The Power Capacitors have excellent selfhealing property whereby any electrical short circuit inside the element is cleared in milliseconds without affecting the normal operation of the capacitor.

LOW ENERGY CONSUMPTION
The low energy consumption keeps the internal operating temperature low, extends the useful life of the Power capacitor and reduces operating costs.

HIGH TEMPERATURE CAPABILITY
low dissipation of MPP Film combined with the superior thermal conduction property of the encapsulate permits operation under high temperature condition.

MODULAR CONSTRUCTION
TIBCON Power Capacitors are available in modular construction. This construction enables easy and inexpensive repair at site and also saves on spares inventory cost.

INDUCTOR COILS
TIBCON Power capacitors are provided with inductor coils to control the inrush current to the capacitors. This feature ensures long term stability of KV AR output and extends their life.

COMPACT IN SIZE
TIBCON Power Capacitors are designed for compactness and efficient cooling. Thus, capacitors ranging upto 8 KV AR are compact in size and the higher rating capacitor units are provided with ventilation.

SPECIFICATION
1. Range : 1 KV AR to 25 KV AR In single units.
2. Power output Tolerance : For higher output, banking facility is provided.
3. Rated Voltage : 0% to + 1 0%
4. Frequency : 440VAC/415VAC 50HZ
5. No. of Phases Connected :Single Phase or Three Phase with or without internal Delta Connection.
6. Upper limit of Temperature Category: 50°C
7. Insulation level : 2.5 KV
8. Discharge Resistors : Externally connected
9. Applicable Standard : IS : 2834 - 1986 (II Revision)

Warranty:
TIBCON Power capacitors are guaranteed against manufacturing defects for a period of 12 months from the date of installation or 1 8 months from the date of purchase, whichever is earlier.
RECOMMENDED RATING OF ACCESSORIES
Recommended Rating of Control Switchgear to be used with 415/440 volts, 50 HZ, 3 Phase Delta Connected Capacitors: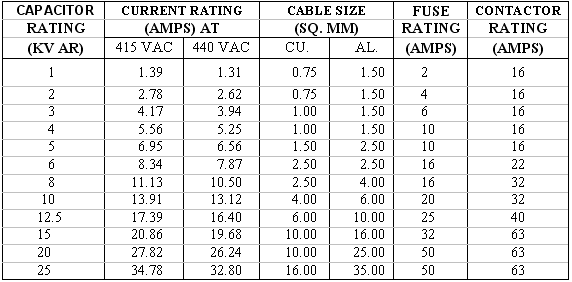 TABLE FOR DETERMINING POWER CAPACITOR RATING
Power Capacitor (KV AR)=Connected load (KW) X Multiplying Factor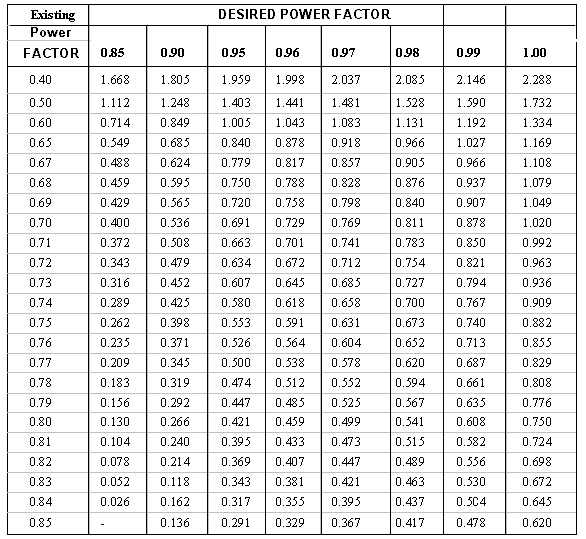 Example:
For the given load of 100 H.P., Corresponding KW= 100 X 0.746 = 74.6
Existing Power Factor = 0.85
Desired Power Factor = 0.95
From the row and column of the table, obtain
Multiplying Factor = 0.291
Power Capacitor (KV AR) = Connected load (KW) X Multiplying Factor = 74.6 X 0.291 = 21.70.
Power Capacitor of 20 KVAR should be selected.
TABLE FOR DETERMINING POWER CAPACITOR RATING FOR DIRECT CONNECTION TO INDUCTION MOTORS
Note :
The recommended Capacitor ratings, shown in the table, are for improving the power factor to 0.95, and these values are for guidance only.